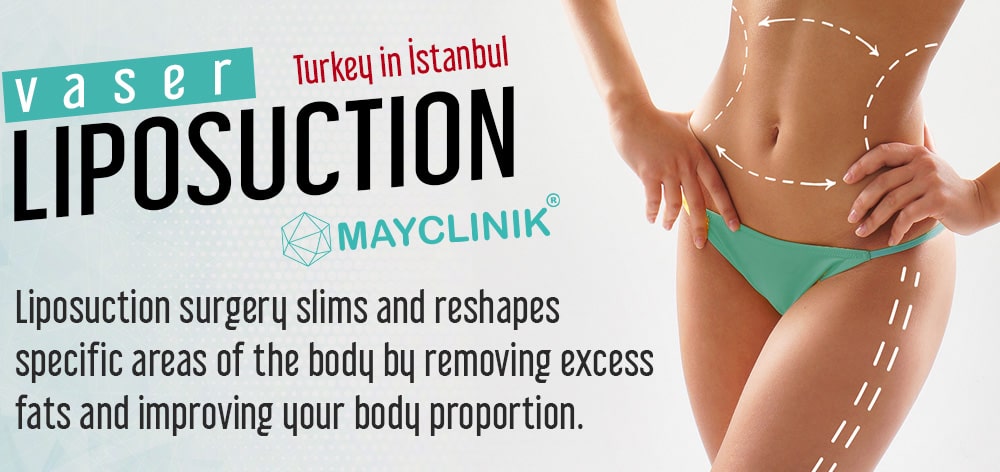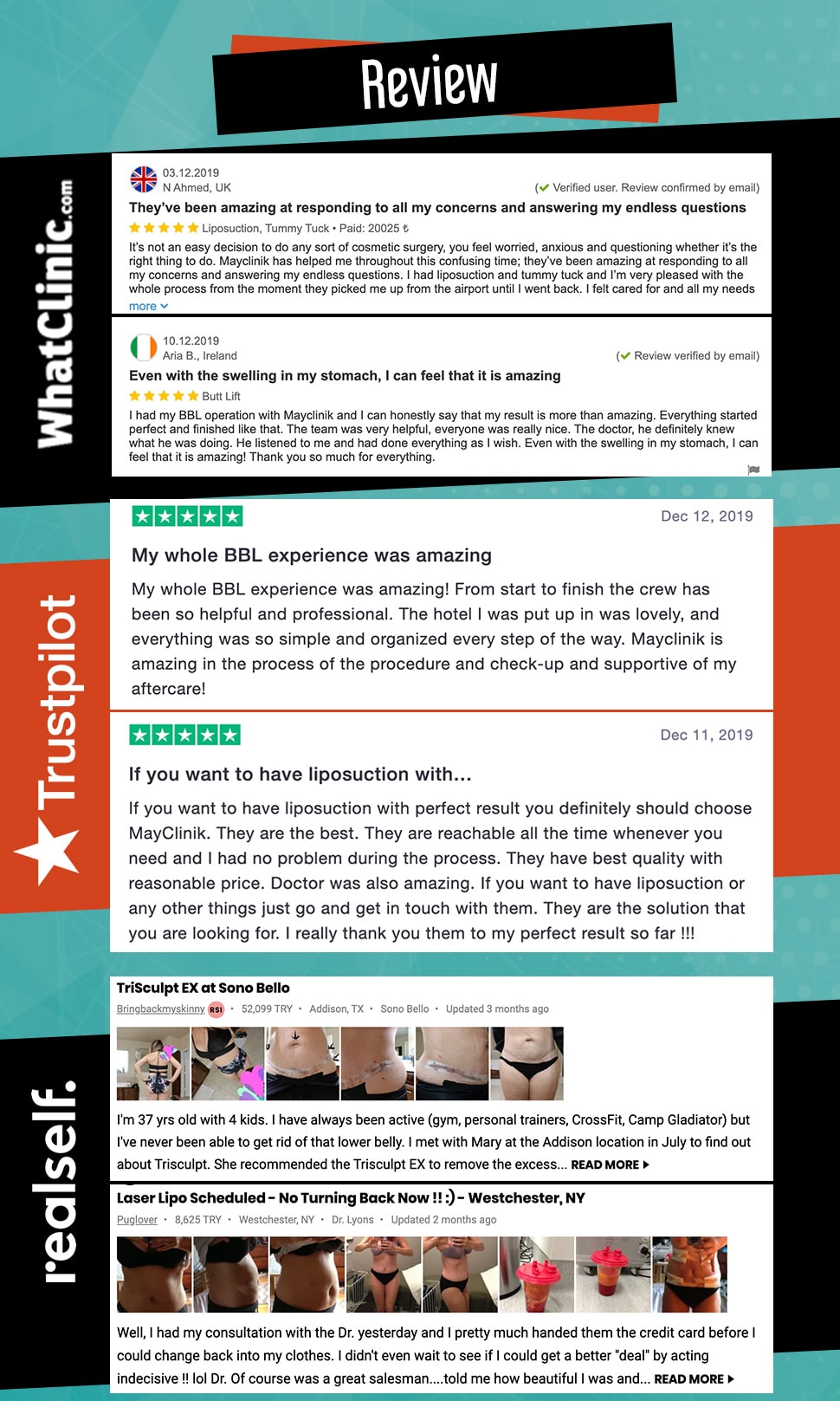 Why MAYCLINIK?
MayClinik is providing the highest quality health and aesthetic services in line with latest technological developments by analyzing customer requests and needs in the best way. More Experience Every year thousand of people come to MayClinik and they get succesfull result thanks to our experinced doctors and concerned personel.
Right Answers For an efficient treatment you need to know what your problem is. We always detect the problem right and that's why we always become right choices for our patients.
Liposuction in Turkey / Istanbul
Liposuction in Istanbul The three different techniques of liposuction carried out in Istanbul includes surgical, laser (SmartLipo) and VASER liposuction.
Liposuction Surgery in Turkey During the recovery period it is essential to follow the instructions of your surgeon carefully. Most patients can return to work within a few days and return to routine activities after about three weeks. A special type of compression garment will be worn by the patient during the recovery period. It may take a few months before the post-operatory swelling to fully subside and as it does, new body contour and enhanced self-image should continue to develop. Also, temporary drains may be placed on incisions beneath the skin to remove any excess blood or fluid. Click here to learn more about pre and post-operation instructions for liposuction Turkey.
FREQUENTLY ASKED QUESTIONS ABOUT LIPOSUCTION
How long does liposuction last?
The time of liposuction varies according to the type of liposuction and the size of area that needed liposuction. Applications of larger areas, such as back and abdomen, take longer. But usually the operation lasts 2-3 hours.
Is surgery scar left after liposuction?
Yes. But these marks are very tiny. In addition, your surgeon will set all cuts to be kept hidden within your body's natural lines. Many patients don't do problems that are too small to be noticed.
Why should wear a compression garment after application?
After the application, most surgeons require the wearing of a compression garment or a bandage in the treated area. The compression garment reduces bleeding after liposuction, reduces discomfort and accelerates the healing process. In open tumoral liposuction, the doctor leaves the incisions open. The compression garment in this type of liposuction allows the anesthetic fluid to leave the body faster. In closed liposuction, the doctor throws stitches to close the incisions. In this case, the compression garment allows your body to absorb fluids faster and improve your healing.
Is it possible to treat obesity with liposuction?
Definitely not. Liposuction should never be done for weight loss. The goal of the liposuction is to improve the appearance and to have a fit appearance. The goal of liposuction is to remove regional fats that cannot be removed by diet and exercise. During the surgery, the surgeon should not take more than 5 kilos or 5 liters of fat. Excessive amounts of oil lead to fluid imbalance and other problems.
When can I go back to work?
You can avoid doing things requiring excessive activity for 3-4 days after liposuction. After 10 days you can return work.
Is liposuction permanent?
Liposuction permanently removes fat cells, but does not prevent you from gaining weight. On the other hand, if you gain weight, fats will usually accumulate in other parts of the body. Therefore, for example, if liposuction is applied to your belly area, this area will remain thin for years, even if you gain weight, but the weight you take will accumulate in your arms, buttocks or other areas.
When should we take the compression suit?
This time depends on the type of liposuction that is specifically applied to you and the preferences of the surgeon. In some cases it is necessary to wear the compression garment for up to 5-6 weeks, in some cases, especially when you prefer open tumoral liposuction, it may be sufficient to wear the compression garment only for 2-3 days.
Is it possible to correct a bad liposuction application?
It is sometimes impossible to correct all the bad results of previous liposuction operations. But in most cases, a significant success is achieved. In order not to get a poorly applied liposuction, you should choose your surgeon better.
When can I smoke?
Most surgeons recommend not to smoke until at least 10 days after application.
Why Turkey / Istanbul?
Health tourism, is very important income source not only for our country, but also for the other countries in the world. Its volume reaches 100 Billion USD in a single year. Health tourism's difference is about being continued for all 12 months, when it is compared with the other tourism sectors. So, it contributes to employing more and more than other tourism sectors, because of these reasons and differences. Turkey is one of the most successful country in this area, it is in the first 5 countries which gains money from health tourism, in the world. In the past, there were so many people who prefer United States of America or Europe countries to be treated in the hospitals or the clinics. But Turkey is well selected in the last years, because of making investments in the health sector, there are some clinics which have the latest version technologies here. And because of the low price policiesare arranged and applied, against the competitor countries in the health sector, it was started to accept so many patients who are from Middle East and Europe. The foreign patients population is getting bigger day by day in Turkey, because of these nice and successful investments. What is a Brazilian butt lift? A Brazilian butt lift is a specialized fat transfer procedure that augments the size and shape of the buttocks without implants. Excess fat is removed from the hips, abdomen, lower back, or thighs with liposuction, and a portion of this fat is then strategically injected into the buttocks. A skilled cosmetic surgeon can improve the proportions of the entire lower body with Brazilian butt lift surgery, helping a patient lose fat in common "problem areas" and enhance the buttocks, with results lasting many years.What is Mommy Makeover? Mothers who are disturbed by the changes in their body rightly want to return to their former forms after birth. Combined aesthetic surgery to achieve this transformation is called mommy makeover. There is a holistic approach in the logic of maternity aesthetics. Although abdominal, breast aesthetic surgeries and liposuction are performed separately, today we approach the body as a whole. In this way, it gives much more holistic and satisfactory results with the operations dealing with the whole body. If the operations are performed one by one, when we correct one place, the other non-surgical area is striking. Therefore, when planning these operations, the whole body is considered as a whole. In this context, combined operations where abdominal, chest, back, waist and sometimes butt area are corrected at the same time are performed more frequently and it is called as motherhood aesthetics. What is Tummy Tuck ? A tummy tuck is a cosmetic surgical procedure to improve the appearance of the abdomen. During a tummy tuck — also known as abdominoplasty — excess skin and fat are removed from the abdomen. Connective tissue in the abdomen (fascia) usually is tightened with sutures as well. The remaining skin is then repositioned to create a more toned look. You might choose to have a tummy tuck if you have excess fat or skin around the area of your bellybutton or a weak lower abdominal wall. A tummy tuck can also boost your body image. Why it's done ? There are a number of reasons you might have excess fat, poor elasticity of the skin or weakened connective tissue in your abdomen. These include: Significant changes in weight Pregnancy Abdominal surgery, such as a C-section Aging Your natural body type A tummy tuck can remove loose, excess skin and fat, and tighten weak fascia. A tummy tuck can also remove stretch marks and excess skin in the lower abdomen below the bellybutton. However, a tummy tuck won't correct stretch marks outside of this area. If you've previously had a C-section, your plastic surgeon might be able to incorporate your existing C-section scar into your tummy tuck scar. A tummy tuck can also be done in combination with other body contouring cosmetic procedures, such as breast surgery. If you've had fat removed from your abdomen (liposuction), you may decide to have a tummy tuck because liposuction removes tissue just under the skin and fat but not any excess skin. By removing excess skin and fat and strengthening your abdominal wall, a tummy tuck can give your abdomen a more toned and slimmer appearance. Tummy tuck results are usually long lasting if you maintain a stable weight